OVER 20 YEARS CAR RENTAL EXPRERIENCE

SUPREME FDW INSURANCE
WITH 0€ EXCESS

24-7 SUPPORT AND
AIRPORT/HOTEL DELIVERY

NO HIDDEN COSTS
GUARANTEED
Welcome to Rent-A-Car-Crete.GR
Rent-a-car-crete.gr provides car hire to move around Crete with freedom and absolute peace of mind that a vehicle gives you. With 20th years of experience, our stuff can offer you premium rent a car Crete services, 24H support and brand new vehicles for your stay in Crete with economy rates.
Our prices include Rental Cost, Supreme Insurance ( Full Collision Damage Insurance, Fire & Theft Insurance, Insurance for wheels, under side of car, glass & mirrors ), Extra costs for rent with late pick up, extra costs for different pickups and dropoff). You have nothing to worry about.
You don't need a Credit Card as Guarantee.

All you need is to find the car that suits you from our 70 different models and fill the request form. You can book your desired car hire Crete  with no deposit and pay when you arrive in Crete upon delivery.
Just rent a car Crete with us and  discover all beauties of the island.
Advantages of Hiring with Rent-a-car-crete.gr
Rent-a-car-crete.gr grows every year, due to our customers, who recommend us to their friends and relatives. We stand out among other companies providing car rental Crete for the following reasons:
Our fleet is more than 1800 vehicles, which is updated with the latest models every year from the best car brands in the market.
We  service 24h at Heraklion airport, Chania Airport and 40 other locations over Crete.  There will always be our representative waiting for your arrival and deliver you the car you have booked with no delays.
Our Car Rental Terms and Conditions are totally transparent. Please read them and do not hesitate to contact us if you have any questions.
The payment is made upon the pickup of your car. You can pay by cash or credit card. No deposit is required.
We have the Best all-inclusive car hire Crete. No hidden extras, Full Insurance with No excess, Free 2nd Driver, Free Baby Seats.
We provide you a large range of cars to rent a car Crete
Rent-a-car-crete.gr offers you more than 80 different models from the best car brands worldwide and plenty of car groups to select from.  We guarantee the availability of your car booking.
Economy car groups (compact models).
Medium and Large Family Cars (Sedan and hatchback models).
Automatic vehicles from small to luxury categories.
7 seater & 9 seater cars  for groups and large families (the biggest car fleet in Crete)
Luxury car group with the brands like BMW, Mercedes, Porsche
SUV & Jeeps cars 
Convertible Cars & Cabriolet
How to Rent a Car in Crete?
In 3 easy steps. In the search form, choose the specific days you need to rent a car, the pick up and drop off location and driver's age and click the search button(1st step). You will see all the cars with the car rental cost Just select the vehicle you need (2nd step). Finally in 3rd and last step, choose the extras (Free baby seats & Free 2nd Driver) and fill your personal and travel information. It is very easy and simple.
Do you need insurance to rent a car?
Rent-a-car-crete.gr offers you Full Collision Damage Waiver Insurance with no excess. Our Full Car Insurance covers any damage of the car. As a result of this you will not pay any extra cost in case of an unpleasant accident. Our car rental company also covers the tires, the glasses and damage underneath the car. The Best Car Insurance in Crete is here and we proudly provide you with your rental.
How rent a car without credit card?
If you don't have a credit card or if you don't want to use it, this is not a problem for rent-a-car-crete.gr . We will never ask you to have a credit card. In online reservation, you make the booking without deposit. You can pay in cash upon arrival. Because of our full exclusive car insurance, No credit card is used as guarantee. You are fully protected by us to enjoy your car hire in Crete.
How old to rent a car in Crete?
Driver must be 21+ years old, with driver's license held for minimum 12 months, for car groups A,B,C and 23+ years old, with 24 months driving license, for all other car groups. There is not any young driver fee in our car rentals. For example, if you are under 25 years old, you will pay the same car rental with a 40 years old driver.
We offer the following options with no additional charges.
Theft Insurance & Fire Insurance with 0€ EXCESS
Third Part Liabilities & Personal Insurance with 0€ EXCESS
Supreme FDW (Full Damage Waiver) Insurance with 0€ EXCESS
WUG (Wheels, Underside, Glass) Insurance with 0€ EXCESS
Unlimited Kilometers
Free of charge First Additional Driver
No charge in case of delayed arrival
New safe vehicles, free of charge car upgrades in winter and low season
Deliveries/Collections at the ports and airports 24H
Free car parking at the ports, airports and our offices
Free Map of Crete & Car Washing in our offices
VAT & Municipality Tax
Immediate replacement of vehicle in case of break down or accident
Cheap Car Rentals in Crete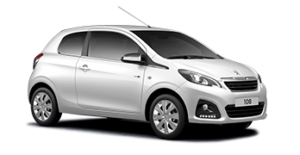 From €14 / Day
Peugeot 108 | Mini Economy
From €16 / Day
Suzuki Celerio | Economy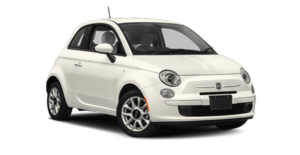 From €20 / Day
Fiat 500H | Mini Diesel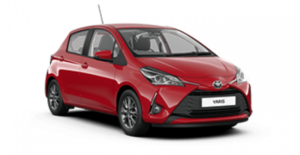 From €20.14 / Day
Toyota Yaris - Medium Family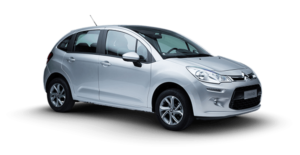 From €22.29 / Day
Citroen C3 - Medium Family Diesel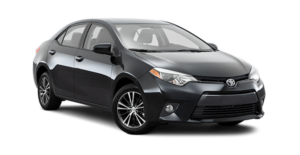 From €34.86 / Day
Toyota Corolla - Large Family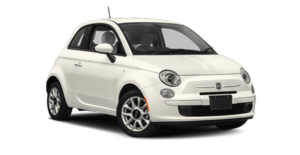 From €34.86 / Day
Fiat 500H Cabrio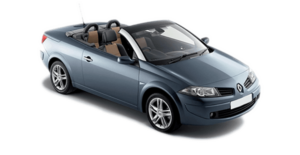 From €39.71 / Day
Renault Megane Cabrio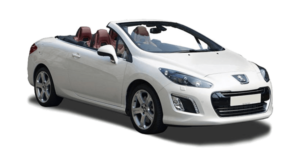 From €39.71 / Day
Peugeot 308 Cabrio
Car Rental Locations in Crete